Rim Straightening and Rim Repair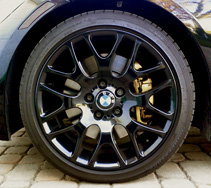 If a wheel lip or the wheel itself gets bent or damaged, it can be fixed in most cases, for the fraction of cost of a new replacement wheel.  Instead of finding yourself standing face to face with dealer prices for OEM replacement wheels – talk to the specialists at Tirehaus. Whether your rims are made of steel or alloy, it's possible to straighten them out to where they look great and roll right. Various tools and fixtures, combined with old-style metal forming skills reverse the many forces that may have put that wheel out-of-round in the first place. We also offer cracked rim repairs / cracked rim welding and have a large selection of used factory OEM rims.
If one or more of your wheels take a hit, make sure to get them all checked out. Remember however, that the visible damage caused by a pothole or a curb may be just a visual manifestation of your potential problems. Vibrations from an out-of-round wheel can have negative impact on everything connected to it, like suspension or steering components.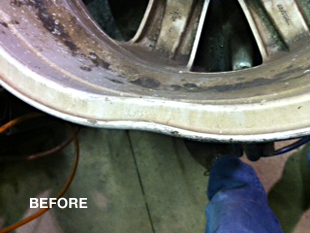 Rim Refinishing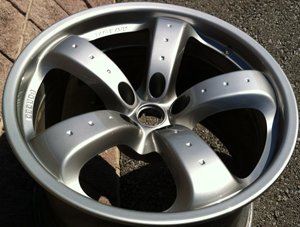 Tirehaus offers rim refinishing and rim repair services. At our shop we refinish wheels for both foreign and domestic cars and trucks. Automotive rims have many different types of finishes.  The most common ones are: painted, powder-coated, machined with clear-coat and polished finishes.  With our refinishing processes we can remove curb rash, scrapes, gouges and paint discoloration caused by age or weather.  We can refinish almost any type of rim finish.
Paint or powder-coating is the most common finish used on cars today.  The painting process includes prepping the wheel, adding primer, applying base coat, and finishing with a clear coat, which seals the entire paint job against corrosion, caused by daily wear and environment. When considering a complete rim refinish, check out out rim powder coating option.
Polishing process gives the rims shine, comparable to chrome wheels.  We can restore the original polish luster of your wheel by either hand polishing or machine polishing.
Follow this link to view our Wheel Refinishing Project Gallery. For more information and a price quote please call our shop at 905-387-8555 or contact us.