Tirehaus offers TPMS Service for Imported and Domestic Cars!
One of the most rapidly growing pressure sensor applications is tire pressure monitoring. The basic tire pressure monitoring system simply indicates to the driver the need to check tire pressure. Tire pressure measurement has several links to the car safety systems and could be used to detect more than a flat tire, for example
Low front tire pressure results in under steering and low rear tire pressure in over steering
Over- or under-inflation will significantly decrease tire life,
A 0.4 bar deviation from optimum corresponds to 30% in life, – Under-inflation increases fuel consumption by about 4% per 0.6 bar
Hydroplaning is a real risk as there is no road contact in the centre of the tire beyond speeds of 100km/h,
50% under-inflated tires (2.4bar => 1.2bar) increase stopping distance from 100km/h with ABS up to 10m under wet conditions,
A pressure drop over a certain limit activates an alarm,
Incorrect tire pressure disturbs suspension control.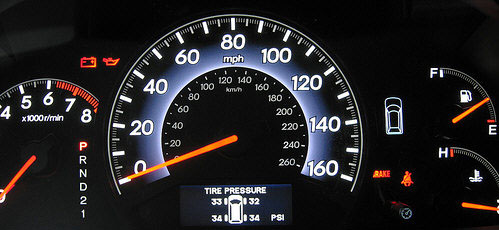 At Tirehaus we reprogram, reset, program and diagnose TPMS sensors. We service a variety a domestic and imported vehicles such as Chrysler, Ford and GM, as well as Hyundai, Mitsubishi, Nissan, Toyota, which require reprogramming or reset with every wheel service.