Rim Straightening and Repair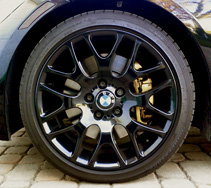 If a wheel lip or the wheel itself gets bent or damaged, it can be fixed in most cases, for the fraction of cost of a new replacement wheel.  Instead of finding yourself standing face to face with dealer prices for OEM replacement wheels – talk to the specialists at Tirehaus. Whether your rims are made of steel or alloy, it's possible to straighten them out to where they look great and roll right.
If one or more of your wheels take a hit, make sure to get them all checked out. Remember however, that the visible damage caused by a pothole or a curb may be just a visual manifestation of your potential problems. Vibrations from an out-of-round wheel can have negative impact on everything connected to it, like suspension or steering components.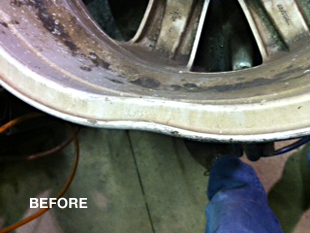 Modern machines, various tools and fixtures combined with traditional metal forming skills, can reverse the many forces that may have put that wheel out-of-round in the first place. Your rim will be straight and safe to use. We also offer cracked rim repairs / cracked rim welding and have a large selection of used factory OEM rims.